23.02.22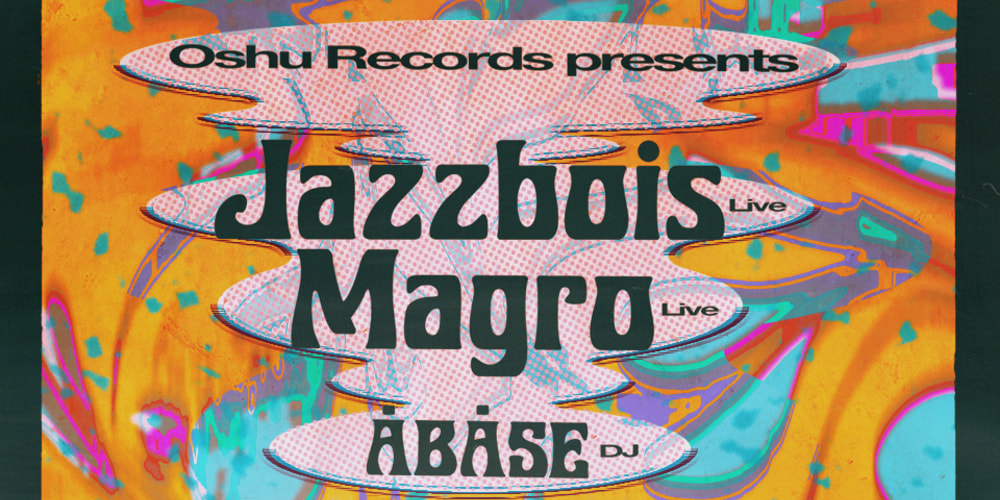 Badehaus & Oshu Records Presents:
Shades of Oshu vol. 4

Jazzbois (Live) + Magro (Live) + Àbáse (DJ) 23.02.22 in Berlin, Badehaus
Tickets – Shades of Oshu vol. 4
Berlin
---
Informationen
SHADES OF OSHU VOL. 4
Jazzbois (Live) + Magro (Live) + Àbáse (DJ)
Badehaus Berlin
Start: 8pm
This event will respect the current COVID event regulations.

JAZZ | AFROBEAT | ELECTRONICA

Ticket price: 15.68€
Oshu Records & Badehaus present another Shades of Oshu with Jazzbois (Live) + Magro (Live) and Àbáse (DJ).
Official media partner: hhv.de
Jazzbois:
Jazzbois is a jazz-hiphop fusion trio from Budapest, Hungary. Their debut album "Jazzbois Goes Blunt" had a strong impact on both the jazz and hip-hop scene, creating a unique psychedelic flavored fusion that shacked the bones of jazz masters and beat lovers alike. As complete newcomers into the scene they were recognized by many key figures in the industry, receiving support from Joe Kay (Soulection), landed on multiple editorial playlists on Spotify & Apple Music, they got spinned on worldwide.fm and even in the office of the legendary jazz label - Brownswood Records. Beneath the streams however the full Jazzbois experience happens when they play live. Since all of the tracks are results of pure improvisation, cosmic energies collide every single time they play together. A truly unforgettable musical experience.
In 2021 September Jazzbois has released their second full length album "Jazzbois Goes Blunt II"
https://www.instagram.com/jazzbois/
https://www.facebook.com/jazzbois


Magro:
With his music, the Berlin drummer and producer MAGRO creates an unusual fusion of acoustically played jazz and produced HipHop/RnB. His project combines many of his musical influences such as Herbie Hancock, J Dilla and Chris Dave.
After working with numerous artists as a drummer and producer over the years (including Kenny Wesley, J Lamotta and Stimulus), he now released his first album – "Trippin" – under his own name.
On the album Magro featured some of his favorite musicians and singers – among others Jazz great Kurt Rosenwinkel, the aspiring alternative soul singer Leona Berlin and US rapper TwizzMatic.
https://www.facebook.com/magrodrums
https://www.instagram.com/magro_music/
-------------------

Hosted by ÀBÁSE
Artwork: Mark Fridvalszki
Event production: temka.world


Oshu Records is the latest endeavour of Szabolcs Bognar aka Àbáse. With his Brazilian album "Laroyê" being the debut release in early November 2021, Oshu Records is set to represent emerging young artists with an authentic sound fused with a global approach, always "on a quest for global grooves of unity.

Gefördert von der Staatsministerin für Kultur und Medien & der Initiative Musik im Rahmen der Förderung "Neustart Kultur