08.07.22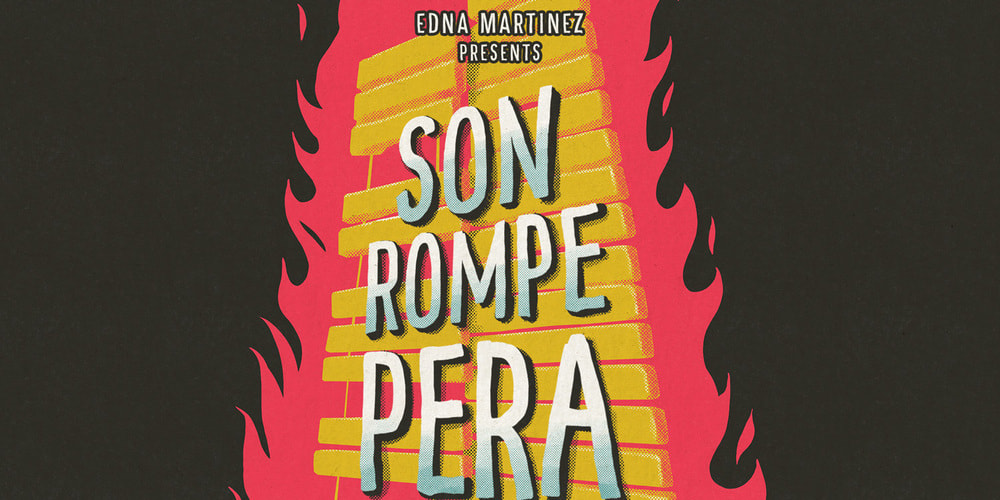 Edna Martinez & Badehaus presents:
SON ROMPE PERA

Djs, SNO, Makumba, Qrichi, Anacaona, & Dj Quien 08.07.22 in Berlin, Badehaus
Tickets – SON ROMPE PERA
Berlin
---
Informationen
08.07.2022
Badehaus Berlin

DOORS:10PM
LIVE SHOW: 11:30PM
For first time in Berlin SON ROMPE PERA!!! afterparty with a heavy DJ Lineup!!
A night dedicated to the authenticity and strength of unique and delirious sounds from Latin America and Africa at Badehaus Berlin. SON ROMPE PERA live! the Mexican band that proclaims cumbia as the new punk. Rhythms from all over Africa selected by SNO, she is one of the most amazing south african Djs based in UK. MAKUMBA from acclaimed DENGUE DENGUE DENGUE DENGUE will share global productions with heavy bass lines and flavor. QRICHI (Peru), ANACAONA (Venezuela), and DJ QUIEN (Bolivia) at the controls until dawn will deliver exclusive strictly vinyl sets for the most exquisite dancer. Enjoy this moment orchestrated by EDNA MARTINEZ, Artist, Dj and tireless curator of Caribbean, African and Arab sounds on the Berlin scene.
SON ROMPE PERA(México) live!
Born and raised in the deep outskirts of Mexico City Son Rompe Pera is keeping alive the rich legacy of marimba music. The marimba is an idiophone percussion instrument, similar in form to a xylophone. Xylophones are widely used in central and western African music, and were taken to Latin America during the conquest and colonization. While firmly rooted in the tradition of this historic instrument, their fresh take on this folk icon challenges its limits as never before, moving it into the garage/punk world of urban misfits and firmly planting it in the 21st century.
Their live shows are a sweaty mess of dancing fans, and this garage-cumbia-marimba-punk band (the only band of its kind in the world) never disappoints on stage. Their authenticity shines through as they give their modern interpretation of Mexican, Peruvian, and Colombian classics, as well as their own original material and some surprise covers connecting audience to the past while they dance into the future.
I their own words: "The basics of Son Rompe Pera have been developing since we were kids, and the music and streets are in our blood. We found the markets flooded with old, forgotten traditional music, and so as kids we decided to carry the marimba with us and create this musical project from our own roots, mixing in rhythms which we thought would never be musical brothers, like cumbia, punk, and the sounds of our barrios and our everyday lives.
SNO (Republic of South Africa)
Hailing from Bophelong in South Africa in the apartheid era, now Manchester-based, SNO has seen music as a beacon of strength and hope to the marginalized – and it's evident in her selection: South African hip-hop, Congolese rumba, Egyptian jazz or Brazilian boogie, , SNO is spreading the word about music often overlooked by the Western industry. She has been making waves around the world with her propulsive festival slots at Dimensions Festival, Houghton Festival to name a few, and with her shows on NTS Radios.
https://djmag.com/features/recognise-sno
https://www.wonderlandmagazine.com/.../south-african-dj-sno/
MAKUMBA (Perú)
As part of producer duo Dengue Dengue Dengue Rafael aka Dj Makumba will spice the night with heavy tropical & bass tunes from across the globe.
https://www.mixcloud.com/rafael-pereira13/
QRICHI (Perú)
Dj and manager of Eck Echo records, a Peruvian music label representing the incoming voice of contemporary latin electronic music in Berlin.
https://www.mixcloud.com/.../eck-echo-mixtape-for-global.../
ANACAONA (Venezuela)
Hot boogaloos and hard salsas from the neigborhood stricktly in vinyl direct to your soul.
https://soundcloud.com/ana-pe-afiel-marcano
DJ QUIEN (Bolivia)
DJ & Producer from Bolivia with almost 22 years in the scene, bass music open format dj.
EDNA MARTINEZ (Colombia)
Artist, Dj & Curator routes Caribbean, African, and Arabic sounds. She is the woman behidn amazing nights such as LatinArab Berlin, El Volcán El Orgullo de Berlin and Prende La vela. Listen her shows Monthly on Worldwidefm and RadioAlhara
https://linktr.ee/ednamartinezdj
Gefördert von der Staatsministerin für Kultur und Medien & der Initiative Musik im Rahmen der Förderung "Neustart Kultur".